Jessica Hoppe
Graduate of Disney College of Knowledge
Favorite Disney Theme Park – Magic Kingdom
Favorite attraction at:
Magic Kingdom – Splash Mountain & Big Thunder Mountain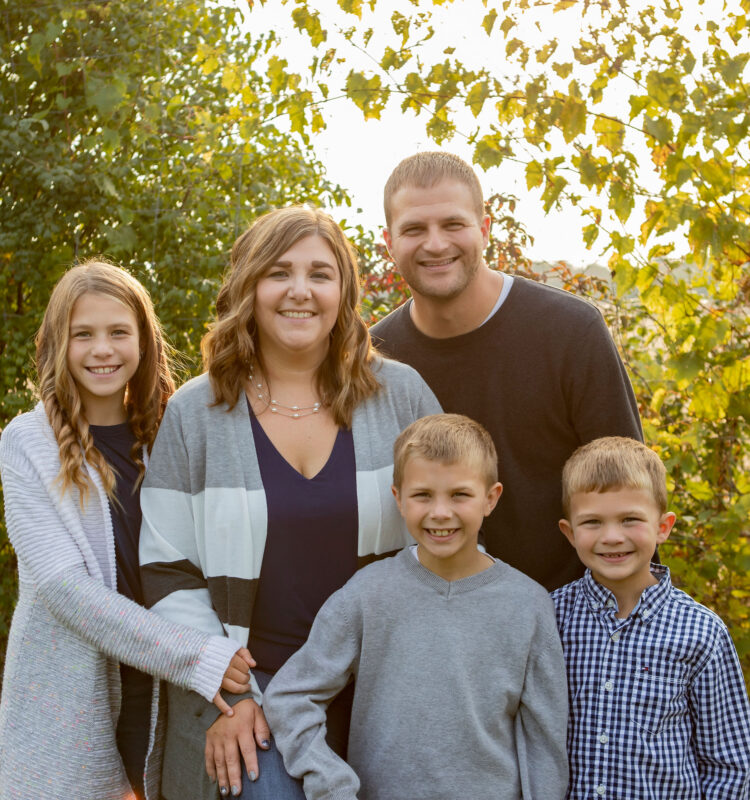 Epcot – Test Track
Hollywood Studios – Slinky Dog Dash
Animal Kingdom – Flight of Passage & Kilimanjaro Safari
Disneyland Park – It's a Small World Holiday
Disney's California Adventure – Radiator Springs Racers
Favorite Disney Snack – Dole Whip Float (in any flavor!)
Favorite Disney Character Meal –  Topolino's Terrace Character Breakfast at Riviera Resort…Delicious food & best character interactions!
Favorite Non-Disney Character Dining– Homecomin'
Favorite Time of year to go to Disney – Christmas!  Nothing beats the twinkling lights, holiday decorations, and the magic of Disney & Christmas combined!
I am happily married to my husband, Aaron and we have 3 children: Madison, Ethan & Cayden.  Ever since planning our first family vacation to Disney World in 2014 with my kids, I've been in love with all things Disney!  I absolutely loved every minute of it, and having young children to experience it through their eyes for the first time was truly amazing!  People often ask the best age to go, and the truth is, there is no best age.  All ages offer a new magical experience.  I've since visited with my family multiple times and at all different ages.  Whether it's with your little ones and seeing the pure joy and wonder on their faces when meeting their favorite characters for the first time, or the adrenaline rush of being on a thrill ride with your tween/teen for the first time, or making lasting memories with grandpa, grandma and the whole family, each visit provides its own unique & memorable experiences.
While trends change & toys become outgrown, trips, experiences, and memories are something you'll cherish & remember forever.  Helping people has always been a big part of who I am, and being able to combine my love of helping people and Disney by becoming a travel agent has been like a dream come true.  I love building relationships with clients to help better understand them and their wants and needs to make their vacation perfect for them.  It doesn't matter who I'm planning the trip for, or how long it is, I still have that same excitement & anticipation as if it was my own. 
The part I look forward to the most is hearing how magical everyone's trip was after it's done and seeing pictures full of smiles.  That is why I do what I do.  Being able to help people plan a trip of their dreams to such a magical place and giving them memories that will last a lifetime is priceless and makes me excited for each and every one of them.
While Disney is my passion including: Disney World, Disneyland, Disney Cruise Line, Adventures by Disney, & Aulani a Disney Resort and Spa in Hawaii; I'm also able to book and help plan trips to Universal Studios Orlando & Hollywood, Cruises on most major cruise lines such as Royal Caribbean, Virgin Voyages and others, and All Inclusive resorts and destinations such as Beaches & Sandals Resorts, Secrets, Dreams & Breathless Resorts with AMR, Iberostar Resorts, Riu Resorts and more!  If you're not sure, just ask!
I'm obsessed with all things travel.  I've been to Disney World & Disneyland more times than I can count, but in addition to visiting the Mouse, I love going on new adventures & exploring our country and the world!  So far I've visited 45 of the 50 states.  (My bucket list goal is to get to all 50)  I've also been to Canada, Mexico, Dominican Republic & soon Saint Lucia.   Some of my favorite road trips and destinations outside of Disney have been to as a child: Kennebunkport, Maine & the New England states and San Diego, California. 
As an adult with my own family we've enjoyed trips to Gatlinburg, Tennessee; Outer Banks, North Carolina; Destin, Florida; Rocky Mountain National Park and Colorado Springs, Colorado; and out west to South Dakota, Yellowstone National Park & the Grand Tetons.  I also love the beach so our trip to Punta Cana is also a favorite of mine and I expect Saint Lucia will be right up there as a favorite too!  I would love to help you and your family make your dreams come true and assist you with planning your next vacation.  The world just has so much to see and experience! So GO!  Take the trip!  Make the memories!  I promise, you won't regret it. ❤