Brian And Kristi Michalowski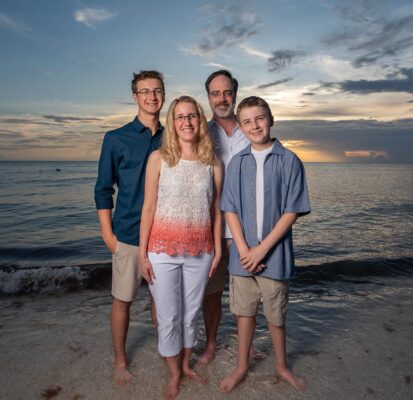 Kristi Michalowski, VTA
Brian Michalowski
Growing up, Brian and I were both very fortunate to have had the opportunity to visit Walt Disney World Resort in Florida with our respective families. Prior to attending graduate school we decided to treat ourselves with a trip to Walt Disney World. We spent ten days enjoying our first Disney trip together. Little did we know back then what Disney would hold for our future!
Just before our oldest son, Matthew, turned two we decided to take him on his first trip to Walt Disney World. On our drive down to Florida, Brian and I discussed our plan to be flexible. We knew there was a good chance that a child so young could be frightened of dark rides or characters, but we also knew there was so much to do at Disney World we would never be bored. Matthew's first trip to WDW was truly magical. He loved everything! To see the sparkle and wonderment in his eyes was captivating. I believe it was on this trip that we truly became Disney fanatics.
We welcomed our second son, Andrew, in 2005. Andrew took his first trip to WDW when he was 15 months old and it was just as magical as Matthew's first trip. Since that trip we have been very fortunate to go to Walt Disney World almost every year (multiple trips in some years). We love trying different resorts, restaurants and experiences as well as returning to our tried and true favorites. In 2010, we took our first Disney Cruise Line cruise aboard the Disney Wonder and became hooked on all that DCL has to offer. We are now platinum cruisers with Disney Cruise Line.
We believe Disney has something for everyone – which leads us to Mouse Magic Travel. After working as a health care quality consultant for 9 years and following the death of my mom, I left my health career behind to pursue something that brings me great joy – spending more time with my husband and children, and to help others plan magical vacations. As our business has grown we have been blessed to welcome many wonderful vacation planners to our Mouse Magic Travel team! We know that you work hard for your vacations and every detail is important. It is our honor to help you plan your Disney vacation.