Liz Alford
lalford@mousemagictravel.com
608-728-8207
Graduate of Disney College of Knowledge
Favorite Disney Theme Park – ALL OF THEM!
Favorite attraction at:
Magic Kingdom – Splash Mountain & 7DMT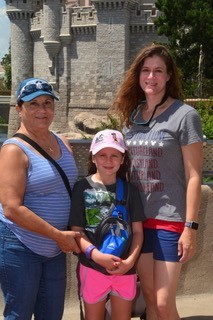 Epcot – Living with the Land
Hollywood Studios – Toy Story Mania
Animal Kingdom – Na'vi River Journey
Disneyland Park – N/A
Disney's California Adventure – N/A
Favorite Disney Snack – Mickey Ice Cream Bar and the Food & Wine Festival kiosks
Favorite Disney Restaurant – Tusker House
Favorite Time of year to go to Disney – November to February:  my little guy doesn't regulate temperature very well, so we aim for temperatures in the 65-75' range.
Favorite Disney Cruise Ship – N/A
My husband and I have two amazing children who love Jesus and are also growing up to be avid Disney fanatics.  We took our family on our first Walt Disney World trip in 2015 and we were hooked.  Our first trip was amazing but there were still so many experiences or details that we didn't know about.  I have spent the past few years immersing myself in the world of Disney Destinations and experiencing as much of WDW as possible.  I love sharing those experiences with clients and using the information gained to advise on any questions you have, to make your trip customized for your family.
Our youngest has medical and disability concerns to navigate when traveling, and we haven't allowed that limit our travel. I'm very experienced navigating TSA policies with medical equipment and supplies, FAA and airlines procedures, and how to navigate Disney parks, resorts and transportation with accessibility concerns to enjoy your trip the most.
I have even flown with both my children and all my son's gear as the only adult (gasp!). In addition to the standard diaper bag and iPads/ entertainment/ snacks for the kiddos, my little minion flies with all of his equipment carry-on and 2 days' worth of supplies carry-on (lost or damaged medical supplies is a huge problem): feeding pump and syringes, medical food, cooler with prescriptions, suction, pulse oximeter, portable oxygen concentrator, BiPAP, walker, stroller/wheelchair, and a car seat to be used onboard flight.
Disability won't stop our family and I would love to guide you and your family as well.  If I can do it, so can you!
Other, if you want:
Overall Fave resorts:  Beach Club and Wilderness Lodge
Future "Dream" Experience:  DCL Mediterranean Cruise or ABD trip focusing on Mediterranean coast
QS:  Pecos Bill, Flame Tree, Les Halles Boulangerie, La Cantina de San Angel, and all the F&W kiosks
Breakfast:  Boma or Be Our Guest
Non- Character TS: Boma, Skipper Canteen, Chefs de France
Character TS:  Tusker House or Garden Grove seafood buffet at the Swan
Signature:  Tiffins
Dinner Show:  Spirit of Aloha for the food, HDDR for the show
Value Resort:  Art of Animation
Mod Resort:  Port Orleans French Quarter
Deluxe Resort:  Beach Club or Wilderness Lodge