Peg Zizmann
Favorite Disney Theme Park – Magic Kingdom
Favorite attraction at: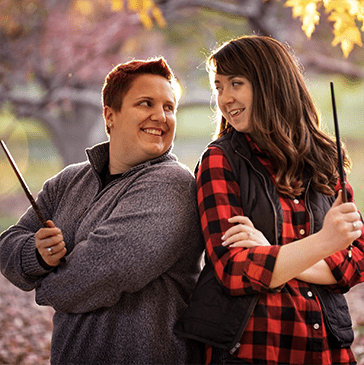 Magic Kingdom – Haunted Mansion
            Epcot – Spaceship Earth
            Hollywood Studios – Studio Backlot Tour (RIP)
            Animal Kingdom – Flight of Passage
            Disneyland Park – Mr. Toad's Wild Ride
Favorite Disney Snack – bread service at Sanaa
Favorite Disney Restaurant – 'Ohana
My students often suggest that I am just a kid stuck in a grown-up's body.  After all, my school counseling office is filled with Harry Potter POP figurines, Chicago Cubs paraphernalia, and decorative nods to Mickey Mouse and the Disney theme parks–the same themes that adorned my childhood bedroom.  And if you glanced at my right wrist, you'd find a small hidden Mickey. 
It is there to remind me of my family.  Growing up, my parents gifted my three brothers and me with annual vacations to Walt Disney World.  My fondest memories of childhood and growing up are so often rooted in those trips. 
In my adulthood, I began my own family at Walt Disney World when I proposed to my now wife, Rachel, at the Boardwalk.  As cheesy or cliched as it may seem from the outside, the magic of a Disney vacation is real–the memories, adventure, laughter, the unbridled joy–and I want to share that magic with friends and families like you and yours.