Rogee Berg
Facebook : Mouse Magic Travel by Rogee
Almost Graduated from Disney College of Knowledge
Favorite Disney Theme Park –  Magic Kingdom
Favorite attraction at:
Magic Kingdom –  Parade and Fireworks  (Ride would be the Mine Ride)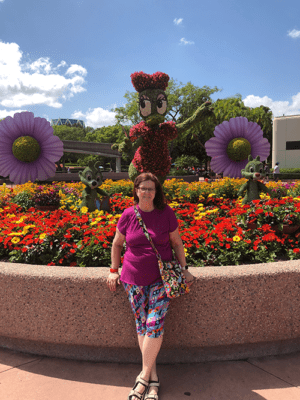 Epcot – Candlelight Processional at Christmas time
Hollywood Studios – Toy Story Ride for now (Haven't been on Slinky Dog Ride yet)
Animal Kingdom – Lion King Show and Finding Nemo 
Disneyland Park –  IT's a Small World at Christmas time
Disney's California Adventure – Pixar Pal Around
Favorite Disney Snack –   Dole Whip!!
Favorite Disney Restaurant –  Crystal Palace with Winnie the Pooh Characters
Favorite Time of year to go to Disney – Right after Thanksgiving
Favorite Disney Cruise Ship – Dream
To be able to share my love of Disney with others and help people go to the most magical place on earth!  For the past 35 years, our most special vacation Destination has been to Disney.  I have planned all of the trips for our family since our children were 3 years old.  Many friends and family members have asked for advice and recommendations on what to do at Disney, where to stay, how to get there, etc.
There isn't anything that excites me more than talking Disney!!