Stephanie Snyder
ssnyder@mousemagictravel.com
262-389-6609
Graduate of Disney College of Knowledge
Favorite Disney Theme Park – Epcot! World Showcase is my favorite place in Disney.
Favorite attraction at:
Magic Kingdom – Pirates of the Caribbean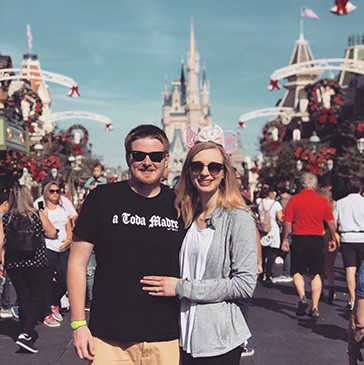 Epcot – Soarin' Around the World
Hollywood Studios – Toy Story Mania
Animal Kingdom – Avatar Flight of Passage
Favorite Disney Snack –  Sundae from the Main Street Plaza Ice Cream Parlor (I can never turn down ice cream!)
Favorite Disney Restaurant – 'Ohana for dinner- I love the theming and the teriyaki noodles you get as a side dish are amazing!
Favorite Time of year to go to Disney – Winter! As someone who is from Wisconsin and lives in Colorado currently, I do not last well in really hot/humid weather. I love the more mild temperatures and lower rain amounts you can often get during this time! Plus, towards the end of January/beginning of February the crowds tend to be much lighter.
Hello! My name is Stephanie and I am from a small town in Wisconsin but currently reside in Colorado.  As a lover of all things Disney, you can usually find me singing along to Disney soundtracks (Mulan and Hercules are my personal favorites), listening to Disney podcasts and reading related blogs!
I have loved Disney World ever since going for the first time as a kid and my obsession only grew after planning my first trip as an adult. For me, the process of planning a trip is an absolute blast and I really believe that Disney has something to offer for everyone- no matter their age or interests! One of the best feelings was planning a trip for someone who was a huge Disney skeptic and having them leave their trip not only having had a blast but wanting to go again the following year.
I look forward to learning about each client's unique trip goals and interests to help them make the most of their vacation experience. I am so happy to help you out with as much or as little of the trip planning process as you like- so you can focus on the fun and excitement of your upcoming trip!
Outside of Disney and trip planning, I love spending time with my husband and dog, running, going to the movies and acting as a self-proclaimed dessert connoisseur